July 1st, 2012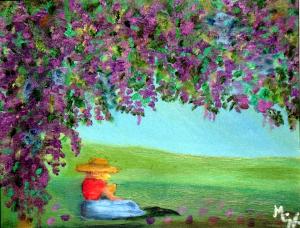 The year was 1949 and I was five years old. My family and I returned from Colorado that July to Sikeston, Missouri. My Father found Missouri to be very hot after being in Colorado for several weeks. One evening after our return, we all sat outside and talked about our wonderful vacation. My Father's bald head showed signs of sweat from the summer heat. The next day, he built an arbor next to the double windows outside the bedroom. He thought it would make the home's master bedroom cooler in summer.

I watched my father build the arbor. He planted small wisteria plants at the foot of each post. He was a man six feet tall with an average build but powerful hands. His sky blue eyes sparkled with delight as he told me that next year the wisteria plants would bloom with purple flowers. I enjoyed spending time with my father. He was usually happy and always in a hurry to get things done. He enjoyed working and would take me with him.
As I grew older, the wisteria vine also grew and finally spread over the top of the arbor to make a screen from the hot sun. Their long purple clusters of flowers cascaded down from the top of the arbor. I loved the sweet smell and pretty sight of the wisteria in bloom each spring. After their flowering time was spent, the soft blooms dropped to the ground to form a beautiful blanket of purple.

Each summer I took delight in sitting under the wisteria-covered arbor. I dreamed of traveling around the world to all the places that I had heard and read about. My parents subscribed to the National Geographic magazine that told in words and pictures of places unfamiliar to me. I would fantasize about being in faraway places and experiencing the glory of learning new things, eating unusual foods and hearing foreign languages. The arbor became a haven to escape from hot boring summers.

I felt stifled in Sikeston. My mother wanted to take me with her fishing but I found sitting looking at the dirty water anything but interesting. The weather was hot in the summer and cold in the winter. I never understood what enjoyment my mother obtained in fishing, unless it was her way of escaping from a life in which she seldom appeared to find much pleasure.
As an adult I worked in the transportation industry and in 1977 was blessed with securing a position with a large multinational corporation in Baton Rouge, Louisiana. In 1979, I flew to New York City on my first business trip. It was a wonderful experience. A close friend of mine from St. Charles, Missouri flew up to New York and joined me. She toured art museums during the day while I attended business meetings. We hit the streets together when my business ended in the late afternoons. I especially remember walking down Time Square at night. My friend told me I acted too much like a tourist. I did not care! It was a thrilling experience for a young woman from the Midwest to be in the big city of New York surrounded by unconventional sights and sounds. The dream only whispered under the covered arbor was alive.

In 1985, they promoted me to a new position. It required many long hours of hard work and required that I travel on business. After completing my assigned work, I used every opportunity to take a side trip. I often ventured out to see interesting sites in the area. It also provided the opportunity to visit with members of my family who were within driving distance of my business destination.

On a 1992 business trip to Brussels, Belgium, I took the occasion to see that beautiful city. It was entertaining, mentally challenging, and an artistically stimulating adventure. On only a short visit to Brussels, my free time was focused on the most important attractions. The number one Brussels attraction is the Grand Place. Walking for several blocks through narrow cobblestone streets gave no hint of what spectacular beauty awaited me. Suddenly, I entered a great plaza. I stopped, frozen in wonder.

I felt like I had stepped back in time, and was very tiny in this big plaza of beautiful buildings. On three sides were beautifully ornamented buildings of the ancient Guilds of the Middle Ages. The other side displayed the ancient Town Hall. The medieval architecture was commanding. Guild houses (a guild is like a modern trade group or union) had stone facades and were eight to ten stories tall. People who know me well discover quickly that I "adore" pillars in architecture. All the guild houses were of Baroque design. Most were decorated with three stories of pillars on each house. Columns were Doric, Ionic and Corinthian styles. One of the more interesting Guild Houses was the ornate "House of the Brewers". Climbing up its columns were beer hops and across the front the inscription read "Maison des Brasseurs". An equestrian statue is on top of the house's gable roof. The Grand Place is something for every lover of art to behold.
A few blocks out of the Grand Place stood at the corner fountain occupied by the famous, but small, bronzed statue of a little boy urinating into a fountain. Over the years I have seen copies of this famous statue -- The Mannekin Pis -- but never knew that the original was in Brussels. Several legends exist about the origin of the statue. But that's another story.

My desire to travel is still strong. With a little luck, I will continue to see the world once dreamed about under the wisteria-covered arbor. Einstein wrote that dreams are the previews of our future. My wisteria-covered arbor only whispered a hint of the beauty that was to be found in the world away from that summer retreat. What this example should teach us all is that dreams do come true. Let us dream positive visions because they may be the previews of our futures!